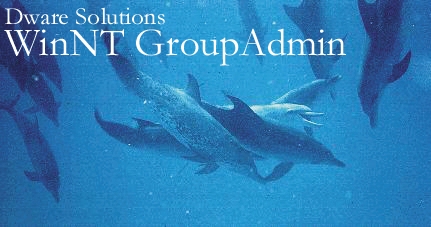 Version 3.68 Documentation

Dware GroupAdmin is a tool designed to help you handle most of your Windows user and group administration. The tool uses a very nice approach to handling groups using the local group as a basepoint. The tool is Active Directory integrated and handles all active directory functionality with the same ease of use concept as the original GroupAdmin.
This application is designed to be used by NT and Windows 2000 system administrators and therefore it requires administrative rights on the servers and domains which you want to manage using this tool.
Included in the application are lots of other very useful features such as:

Unique windows User / Group management interface


Highly improved user account creation, autocreate homedirectories with permissions set


Active Directory browser


NT Domain / Workgroup browser, system information tool


Service management interface


Group membership search functions


Easy Share management interface


Group report generation


Computer/Server reports


Terminal Services management


Process Explorer


Group Copy / Synchronization Tool


LDAP Directory search


Mission Critical Enterprise Administrator (EA) integration


If you have suggestions, questions or problems, or want to check to see if a new version is available, see the supportpage on our website. If you need information on purchasing GroupAdmin, see the Licensing and Registration section for pricing and licensing information.
Supported platforms:



Windows XP


Windows 2000


Windows NT 4.0 (requires SP6a and Microsoft DS client)
Microsoft DS Client is included in the installation package (DSClient.exe)